In Memory
Ella Allen (Beck)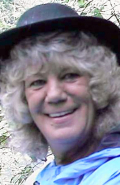 Ella (Allen) Beck passed away in her hometown of Port Angeles on December 26, 2012, at the age of 73.



She was born to Robert "Bob" and Florence Allen on January 4, 1939. She lived in many interesting locations across the nation, from California to Hawaii, Tennessee to Alaska.



While she always found herself returning to her hometown of Port Angeles, Alaska was her true love. She moved there in 1989 to work in a tank farm for Tesoro Petroleum Productions as a heavy-equipment operator.



She had many great friends in Valdez, Alaska, and many more in Port Angeles.



Ella could do anything she put her mind to — and often did. She had many careers during her life, including working as a house painter, a Sheriff's Reserve member, a waitress and a shaker packer.



Her interests extended beyond her career, and some of her favorite things to do were quad riding, camping, yard work, spending time outdoors, woodworking, stock car driving and spending time with her family.

In 2006, she had a stroke and was moved to Crestwood Convalescent Center in Port Angeles. Her family was by her side at the time of her passing on December 26, 2012.

She enjoyed life to the fullest. She was loved and will be missed by all who knew her.

She is survived by her brother, James "Jim" Allen; two sisters, Barbara Armstrong and Julie Turssell; and four children, Ricki L. Niehaus, Gary L. Beck, Wendy Beck Hawkins and Ed R. Beck. She is also survived by her many grandchildren, Nat N. Niehaus, Anthony Stepp, Dylan Beck, Wyatt Beck, Teia Hawkins, Marissa Hawkins, Stevie Nichols, Dustin Beck and Kelly Beck.

She is preceded in death by her parents; brother Charles "Bud" Allen; her sister Roberta Allen; daughter Teresa Beck; and granddaughter Misty L. Niehaus.



She was the very best mom, sister, aunt and friend. God has another special angel in heaven.

A potluck celebration of Ella's life will take place Sunday, January 6, 2012, at Mount Pleasant Grange, 2432 Mount Pleasant Road, Port Angeles, WA 98362.
Published in The Peninsula Daily News on January 3, 2013