In Memory
LaVonne Dixson (Hurning)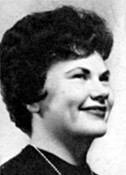 From the Bakersfield Californian – January 11, 2009 – as written by her daughter, Kimberly


Lavonne R. Hurning (1939 – 2008)
My mother was born January 21, 1939 in Pendleton, Oregon, and passed away peacefully on Christmas day 2008 after a long courageous fight with bone cancer. Never complaining or thinking "poor me" were part of her "I can get through anything attitude".
My mother was a very special lady, an amazing mother, spouse, sister, and friend. Her infectious laughter, sweetness, kind hearted loving nature, and great sense of humor were unforgettable.
Growing up, her parents owned a hop yard. Her father hired a tribe of Umatilla Indians to pick hops during the summer seasons and her mother cooked daily for one and all. After selling the hop yard, he bought a dairy ranch, and then sold it to work for his brother who owned a 5,000 acre cattle ranch in Pozo, CA.
Eventually her family moved back north to Port Angeles, WA where she grew up with her sister, Donita, and finished her schooling.
After marrying my father, Paul Hurning, Union Carbide transferred our family to Seattle, WA, where my sister, Traci was born, then to Cleveland, OH, where my sister, Cheryl was born, and Fullerton, CA, where I was born. After a few more transfers, we made our way to Bakersfield, CA in 1977, and deeply planted our roots.
Struggling with alcoholism, my mother joined Alcoholics Anonymous in 1980. While working and living the 12 step program, she remained sober and active for 28 years, until her passing. She was admired by many for the strong and smart woman she was. I was always so very proud of her tremendous accomplishment.
My parents divorced and my mother fell in love with her soul mate, Robert Thurston. They had a true love affair and adored each other for many years until his death in 1996 from cancer.
There have been many emotional and painful tragedies in her life. My sister, Traci passed away in 2001 and my sister, Cheryl passed away in 2005. My mother was so courageous throughout the deaths of her daughters. No parent expects their children to go before them. Despite her aching heart, she phenomenally raised her grandson, Tarrance.
Mama, you are going to be truly missed. I cannot express my broken heart or what you have meant and been to me. You made this world a better place to live because you were in it. I am forever grateful for the way you raised me and only hope I am half the mother, to my daughter, as you were to me. You are forever a part of me...until we are together again. I love you.
My mother once wrote: "The greatest gift a daughter can give a mother is to show her beautiful soul. My hope is that the happiness you give me, will come back to warm you and your family. I love you...I love you! When all is said and done, my most treasured memories are the rearing of my three daughters and the love for my grandchildren. What can be greater?"
My mother is survived by myself, her daughter, Kimberly, son-in-law, Jason, her granddaughter, Kenzi Williamson, her grandson, Tarrance Hurning, her sister, Donita Hahn of Auburn, WA, nieces, nephews, and cousins from all over. Bob's children: Mark Thurston, Lisa Andrew, Eric Thurston, their spouses and children, and his sister, Beverly Reynolds. She had a very special bond with her grandson, Steven Thurston.
Friends of many years include: Judy Paap, Paige and Bob Breen, Stacey Hungerford, Jack West, and Linda Hartnegal-Ross, and many from Port Angeles, WA.
There will be no services due to my mothers wishes. Thank you all who sent flowers, cards, and phone calls. A special thank you to Hoffmann Hospice and Stacey Hungerford for all their help.