In Memory
Tom Bell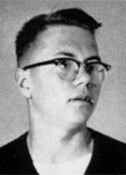 From the Peninsula Daily News – February 4, 2005
THOMAS K. BELL
April 29, 1939 - February 2, 2005
Tom left his family suddenly of a heart attack.
Tom's joys in life were his family and friends. He loved being with all of us, camping or just getting together for some good food and company. Tom was a wonderful cook and was always ready, willing and able to take on the role as camp chef.
One of Tom's favorite things was spending time with his best buddy, Steve Wilhelm, at the river. He also enjoyed motorcycles. Tom was a second-generation lifelong member of the Olympic Peninsula Motorcycle Club and also a lifelong member of the American Motorcycle Association.
Tom was a hard worker and a longtime log truck driver. Tom went into a partnership owning Band Trucking in the 1970s.
For the last seven years, Tom has owned Bell & Pleines Trucking, hauling primarily for Pleines Logging.
Tom touched many people with his English sense of humor, quick wit and his infectious smile. One of his favorite quotes was, "It don't get any better than this!"
Tom was preceded in death by his mother and father, Florence and Leslie Bell, and brother-in-law Kevin Beck.
Tom is survived by his loving wife of 24 years, Bonnie (Beck).
His children who will miss him dearly: daughter and son-in-law Janet Ulin and Blake Bamford, son and daughter-in-law Rob and Julie Bell, and stepson Stacy Beck, all of Port Angeles; grandchildren: Courtney, Brody, Blake, Baylee, Shana Marie, Kody, Jennifer, Justin and Melissa; and mother-in-law Wilma Murray.
Sisters and brothers-in-laws: Janice and Hugh Davis, and Sue and Glenn Douglas all of Spokane, and Terri and Dave Botts of Port Angeles; and Linda Bell of Port Angeles.
In-laws and spouses: Barry and Gerry Beck of Plymouth, Washington; Roxanne Brickey of Banks, Oregon; Paul and Lin Beck of Port Angeles and Gerry Beck of Tacoma, Washington.
Tom leaves behind numerous nieces and nephews and many, many friends.