55 Year Reunion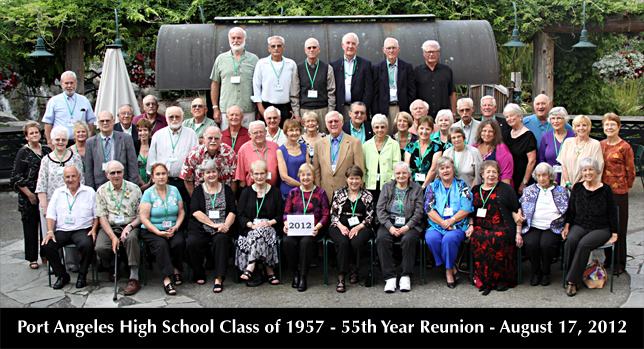 July 29, 2012
(This is a copy of a message that was emailed to the entire class)
Hi to All of You!.
I am emailing this to everyone whose email address we have. If you know a classmate who does not use email or our website, please share this with them.
As promised several weeks ago, I am getting back to you all with instructions on how to get your ride to the Seven Cedars Casino in Sequim for our Class Reunion, should you choose not to drive.
There are regularly scheduled trips between 4pm and 9pm daily from Port Angeles to the Casino.
Just call the Casino at 360-683-7777 and ask for Security. Tell them you would like to book a ride.
In addition to those trips to the casino, there are return trips FROM the Casino every two hours daily, after 5pm. If you can get at least 6-12 people to ride at the same time, you can arrange through them for a custom pick-up almost anywhere along the way. The standard departure points include the Goodwill store and several other places in town, and they are very willing to work with you on the route and the times. It will take about 30-40 minutes for the drive, so keep in mind it would be best if you left Port Angeles no later than 4:45pm! Those of you in the Sequim area can also get transportation to Seven Cedars if you are interested. Please feel free to call them and get the schedule for your area and the pickup locations.
It might be a good idea for someone to take the lead and call others whom you think might want to use this service and arrange together the most convenient times for everyone for both directions. They have limos as well as a bus that holds up to 16 people so there is quite a bit to work with as far as pickup times and the number of passengers. It would be a very good thing to get this planned and call in your reservations as soon as possible after the first of August. Just one more detail to get off your list!
We will begin with cocktails Saturday afternoon at 5:30pm. The class photo will be taken at approximately 6pm, followed by dinner. We will have the room all to ourselves until about 8:15pm, after which time the room will be open to the public. Of course we will still have the area where we are sitting and be able to keep our seats, and we are welcome to stay as long as we like to talk, listen to live music and/or dance. It really is a lovely venue, and very comfortable – so there is no need to feel rushed! Just remember to make your return reservations based on the amount of time you wish to visit or dance or gamble using whatever time schedule suits you and works for you. You will be returned to the spot where you were picked up. There is no charge for this - but in consideration for all the special arrangements, I am sure the drivers would be very gratified to receive tips should you feel inclined to show your appreciation!!
We are looking forward to seeing many of you and having a lovely reunion. We will be seeing many of you at the cocktail party at Peninsula Golf Club on Friday evening, and don't forget to call Bill Pieratt if you want to play golf on Saturday afternoon. Bill says he still has room for more players! Once again, his phone number is 360-457-6815. If you have any questions about anything else - please feel free to call me and I will attempt to answer any other questions you may have. I was asked if there was a way to set a separate fee for the cocktail party only and not the dinner. Upon consulting the committee it was reiterated to me that, due to our numbers and the overall fixed costs involved in organizing this reunion, the cost is an all or nothing package deal – but we might possibly be able to look at this for our next reunion. It has been my pleasure to talk to many of your during the past few months, and it has been fun spending this time with you on the phone and getting to know some of you a little better after all these years!
As you know, the deadline for reservation and payment for participation in our class reunion weekend was July 15, 2012. I am still receiving some late checks, and will be happy to accept late reservations and checks until the 1st of August, at which time the Casino MUST have a count for the dinner. If you would like to come and have not yet made your reservation, please call me and let me know so I can put you in the count, and then please send your check in to me ASAP!! We have had some wonderful comments on the venue for the dinner. I know this made the committee very happy for making this unanimous decision, and so glad this change was so well received.
It might be fun if we are all prepared to give a SHORT synopsis of what has been going on with us as part of the evening's agenda, so everyone gets a chance to find out where you are and what you are doing. This could be only a 2-3 minute talk, but it would mean quite a lot to your classmates, especially those who don't get a chance to chat with you personally!
Thanks again for your great response! We are looking forward to meeting you all again as we can never be sure who might or might not be able to be with us for the next reunion, so let's make this a great one!!
Be Safe - and Take Care!
Wanda Benedict Hulse
360-551-2343
kenwanda@gmail.com
------------------------------
June 18, 2012
Greetings, Class!
As you know by know, the reunion reservation packets went out last week. Most of you have already received yours, but please don't hesitate to contact us if you haven't gotten anything by now.
I have had a few phone calls from classmates who had some questions regarding the reunion, so I thought I would address these publicly for those who may be wondering but haven't asked.
YES there is transportation from Port Angeles to the Casino.
I will be talking to the person in charge of transportation this week, and will be providing a complete schedule with reservation instructions. It is VERY IMPORTANT to make those reservations so the provider will know how many vehicles are required.
In addition to this special transportation, Seven Cedars Casino offers limo or shuttle service from the Red Lion Hotel in downtown Port Angeles to the Casino several times a day. As soon as I receive a firm schedule, I will be posting that on this website along with the phone number to call to make your reservations. There is NO CHARGE for that transportation – but if you wish to tip the driver, that is entirely up to you. I anticipate there will be several trips a day - but you will most likely want the one that departs late afternoon and returns to Port Angeles several different times during the evening.
For those of you staying a little closer in Sequim, or at Sequim Bay Lodge just up the road, transportation is also available.
Please be sure to check the website OFTEN – and please inform anyone who might not have a computer and is interested in coming (but worried about the night driving) that this will be available to those from out of town as well as those locally.
Thanks to Linda Hartnagel Ross for bringing that issue to my attention! I will be getting back to you all within a week or so with the answers. Anyone else having questions, please call me at 360-551-2343 and I promise to get back to you if you leave me a message!!
Looking forward to seeing you all soon!!
Wanda Benedict Hulse
(360) 551-2343
--------------------------------------
May 29, 2012
Greetings, Class!
Many months have passed since I last wrote, and now it is time to start thinking seriously of our 55 year class reunion August 17-18, 2012. You all received a letter regarding the confirmation of your address, but only about one half of the class responded. I HOPE more of you will take the opportunity to send in your form so the next mailing that we will be sending out very soon will reach everyone.
As I have mentioned in earlier communications, we have a change of venue for this 55 year class reunion. We (the committee and I) thought something new would be fun, so we are having our main event Saturday, August 18, at the Seven Cedars Casino just outside of Sequim. This facility has beautiful accommodations for our purpose and their staff is very supportive in working with us to have a very memorable and enjoyable evening. This year we will start a little earlier (5:30pm) in order to allow plenty of time for conversation and catching up. After our dinner there will be live music for dancing, along with quite a variety of other things to do during the evening – time for more conversation and catching up, reminiscing over the memorabilia (please bring ANY memorabilia you might have to share!), and even sneaking out to play a slot or two!
But before the banquet on Saturday evening, we will have our traditional Friday evening no-host cocktail party at the Port Angeles Golf Club, following the world-famous ever popular PAHS Class of 1957 International Golf Scramble (this year organized and coordinated completely by Bill Pieratt). There will be information on accommodations, places to stay, and transportation for those who need to make those sorts of arrangements.
You will receive an event packet in the mail. PLEASE, read your packet carefully, and return your forms as soon as possible so we can proceed with making all the final arrangements for a truly great evening. It is very important to know as soon as possible how many we will have attending so we, along with the Golf Club and Seven Cedars staffs can make the proper arrangements.
It is most imperative that this paperwork along with your checks be returned as soon as possible. If there are those who wish to attend, but don't feel you can afford to do so, please let us know and we will do all possible to make that happen for you. We are all getting older, so we want to see EVERYONE there – please let us know if there is anything that we can do to assist you in any way.
So – the dates are August 17-18, 2012 – Friday evening at the Port Angeles Golf Club – and Saturday evening at the Seven Cedars just east of Sequim. All information that you will need will be in the mail to you shortly. Please plan to attend – especially those who live in the area and sometimes don't bother. I hate to remind you of this – but we aren't getting any younger! There is always the reality that this may be the last time some of us will ever have a chance to get together!!
Once again – I know I mentioned it earlier, but if any of you have any class memorabilia to share, please bring it with you. It is always so fun to see these things after so many years.
Thanking you all in advance for your cooperation in making this a great success!! I look forward to seeing each and every one of you.
Wanda Benedict Hulse